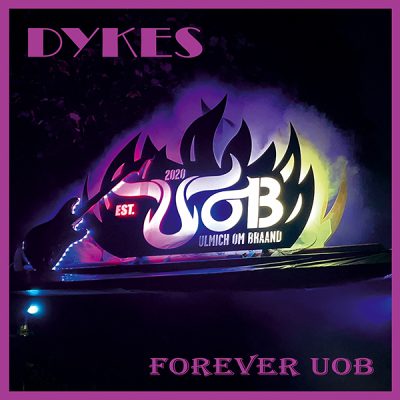 Forever UOB
Die offizielle Hymne zum
Festival U:O:B – Ulmich om Braand
1. Forever UOB 4:42
2. Forever UOB (Maxi-Version)
feat. Jens Ludwig Guitar Solo 5:20
3. Forever UOB (Dykes only) 4:42
4. Forever UOB (Instrumental) 4:42
Dirk "Dykes" Müller – vocals, rhythm & lead guitar
Jens Ludwig – bass & drums, additional guitar-solo on Track 2
music and lyrics by Dirk Müller
Backing vocals by Angela, Christian, Dirk, Marina, Marko, Markus, Mathias, Matthias, Oliver, Patrick & Tatjana
recorded, mixed & mastered in December 2022 – March 2023 by Jens Ludwig
©&℗ 2023 by Dykes-Music. All rights reserved
Erhältlich ab 31.03.2023 auf allen bekannten Streaming-Plattformen und in allen Stores
The Lyrics
1st Verse

Once there were so crazy times, the world just seemed to stop.
So everyone with rocking blood, had a bleedin' heart.
So the guys went out and found a place, where rock was here to stay.
Without a band but huge PA, they rocked the night away.
Pre-Chorus
We are wild, we are free, the way we want to be.
We are wild, we are free, so come on shout with me.
Chorus
UOB – We're rockin' the sea
UOB – For you and for me
UOB – the holy letters, the right to rock out free
Shout with me – and celebrate tonight FOREVER UOB
2nd Verse
The Journey of our rockin' dreams, had a crazy start.
So kept the motor rollin' to plan the second part.
There has to be a stage, the people and the bands.
Everyone's on fire, so come on raise your hands.
Pre-Chorus
Chorus
Solo
3rd Verse (Maxi-Version only)
Here we stand together now, with peace in our hearts.
To celebrate rockmusic, the bands, the crew, the stars.
Rock'n'Roll will never die, let's party here tonight.
Come on let's go crazy, rock into the light.
Pre-Chorus
Chorus
Das Musik-Video zu "Forever UOB" ab 31.03.2023
Der Trailer zur Veröffentlichung von "Forever UOB"